Very Simple Santa Hat Bunting
One of the simplest sewing projects I've ever completed is this DIY Santa hat bunting. The key, I'll tell you, is Santa hats from dollar stores. Oh, you believed that I created the Santa hats? Oh no, I purchased them, buddies. and joined them by sewing. I'm aware, right? Because bunting is so simple to create, I've recently developed a slight obsession with it (see my Halloween bunting). The Christmas version of that Halloween one is next on my list. But for now, I wanted to create a quick and easy bunting so I could finish it during Little J's sleep and still have time to play Candy Crush and sip a coffee. And I did just that.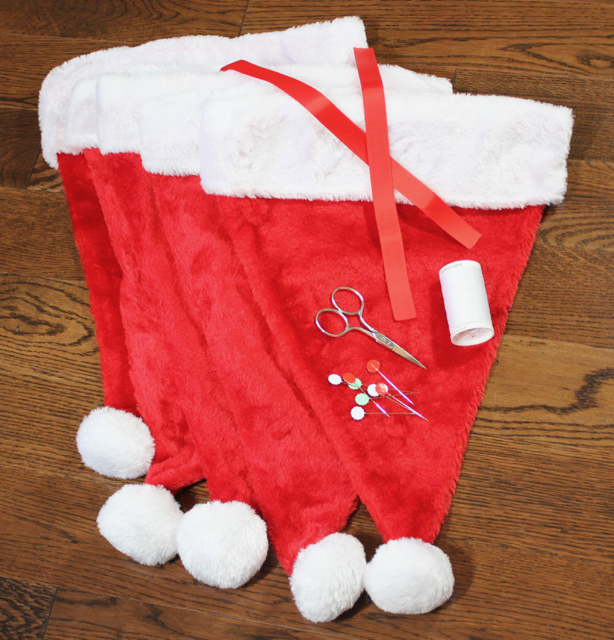 Thanks be to Dollar Store Crafts!
I used five Santa hats, which worked out to be the ideal length for my mantel. I overspent on the fluffy, $1.25 hats rather than the inexpensive felt ones.
2 lengths of 12′′ wide red ribbon
the color white
sewing supplies
Let's start now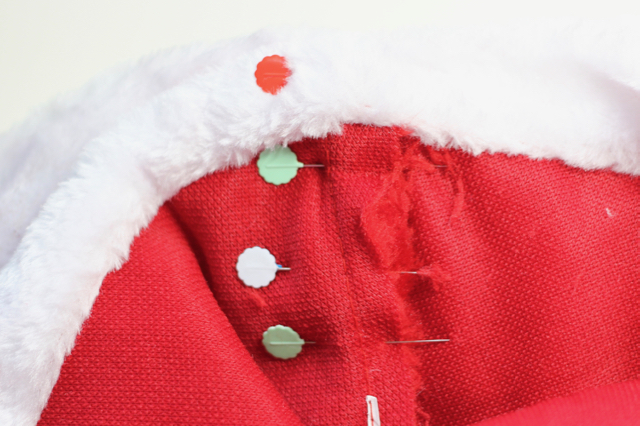 Don't go wild putting every hat together though; it does take a little more work. I made sure that my hats were precisely folded in half before pinning them because they only had a seam down one side. As a stitching guide, I recommend beginning with the non-seam edge of one hat and aligning it with the seam edge of the next hat. Make sure the white cuffs on each hat are folded equally to ensure that they match. You will probably bend your pins to secure them all together because there is a lot of fabric going on in this area.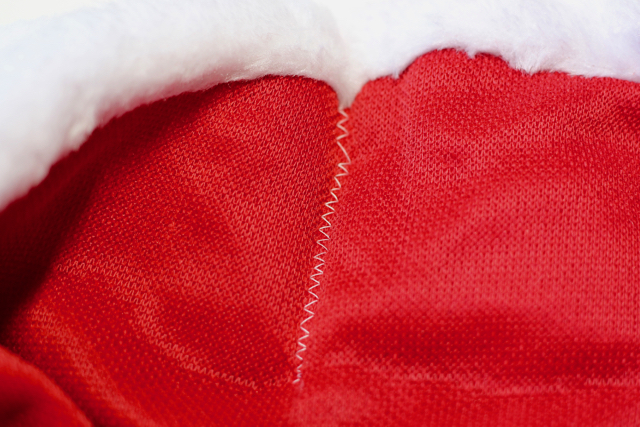 If you have a fancy Husqvarna machine like mine, be careful to put the machine to a heavy fabric setting because of the several layers. Choose a zigzag stitch next. Start stitching now! Work your way down from the top, starting now. The cloth will probably need to be pushed beneath the presser foot with a little force. The view inside the stocking is seen in the image above; once hung up, this won't be visible. I kept stitching down until I was approximately 1/4″ past the end of the white cuff. A mayhem-filled situation will result if you don't keep both caps open while sewing. Continue doing this until every hat is fastened.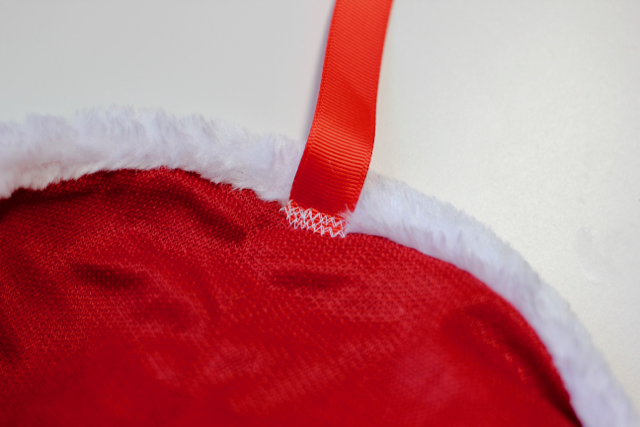 It's time to finish by adding some ribbon for hanging. Make a loop if you'd like, or leave it long and loose as I did so I could knot a bow if I felt like it. Right zigzag stitch a few times across the ribbon's edge, just inside each hat's end seams.
With Care, the Stockings Were Hung By the Chimney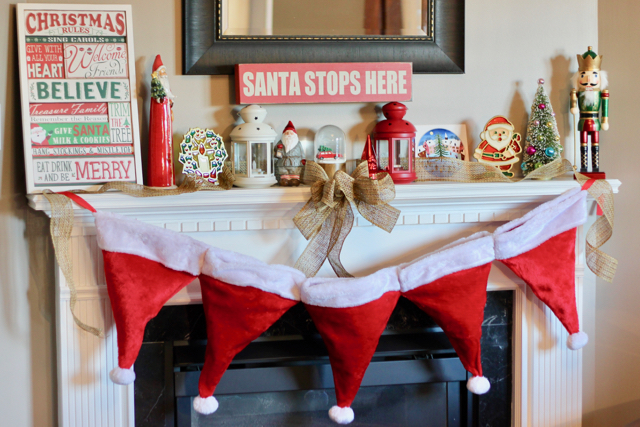 All done! You're done now! Girl, you rock! Now is the perfect moment to hang your lovely DIY Santa hat bunting. You've undoubtedly noticed that my hats appear a bit full. I put some plastic bags inside them because they looked a little droopy when I originally hung them up empty. Yes, individuals, plastic bags from the depths of my sink and dollar shop Santa hats. Nobody will say no! Unless you tell them publicly on the internet…
Either follow my lead or add a further step to your bunting. If you stuffed some cotton batting into each one and hastily stitched the caps' tops shut, it would still look great. You may also use these as sort of stockings as an alternative! Alternately, go all out with some cheery imitation flower sprigs. Take pleasure in it. In the comments section below, please share how you modified this Santa hat bunting.